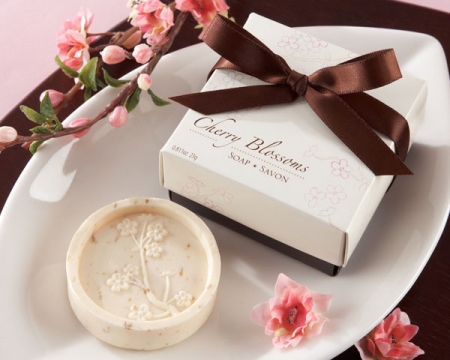 Fresh spring fragrances and warm spring breezes are what will come to mind for your guests when you present to them the "Cherry Blossom" Scented Soap. The fresh smelling soap favor comes in a round shape with a light beige color. A beautifully detailed cherry blossom tree is imprinted within the middle of the soap. Memories of your magical day will live on through this soap as friends and family use it through out it's time. Each soap measures ½" h x 2" in diameter. The gift box has a chocolate brown base with a cream colored top that is decorated with a subtle pink and gray cherry blossom motif. On the lid of the box are the words "Cherry Blossoms Soap". Within the box is a bed of shredded natural raffia which the favor comes presented on. A chocolate brown ribbon tied into a bow finishes off the gift box.
— Item #EX21034
Read more about this product
"Cherry Blossom" Scented Soap
| Quantity | Price / each |
| --- | --- |
| 1+ | $2.18 |
| 24+ | $1.88 |
| 48+ | $1.38 |
| 96+ | $1.24 |
How do you rate this item?
Usually ships in 1-2 business days
Click below to order a sample "Cherry Blossom" Scented Soap