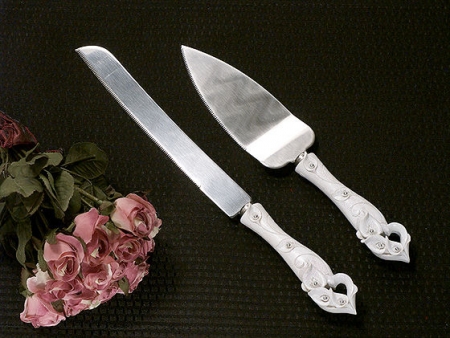 When it is time to cut the cake at your reception choose this Crystal Calla Lily Cake and Knife Set that is worthy of being photographed for the special moment. You will use this set to cut the cake and then have it as a brilliant keepsake through the years to look back on. The set is made of durable stainless steel with poly resin handles. The handles are decorated with three-dimensional calla lilies featuring sparkling rhinestones in the centers. The end of the handle is formed into an asymmetrical openwork heart with three large calla lilies growing up the left side. The cake server measures 10.5" and the knife measures 12.5" long. The set comes presented in a gift box that can be used for storing after your special day is over.
This cake and knife set is part of the Crystal Calla Lily Wedding Accessories Set and it matches with the Crystal Calla Lily Pen Set, Crystal Calla Lily Toasting Glasses, and the Crystal Calla Lily Guest Book. — Item #EX405C
Read more about this product
Crystal Calla Lily Cake and Knife Set
| Quantity | Price / each |
| --- | --- |
| 1+ | $8.33 |
| 24+ | $7.52 |
How do you rate this item?
Usually ships in 1-2 business days
Click below to order a sample Crystal Calla Lily Cake and Knife Set