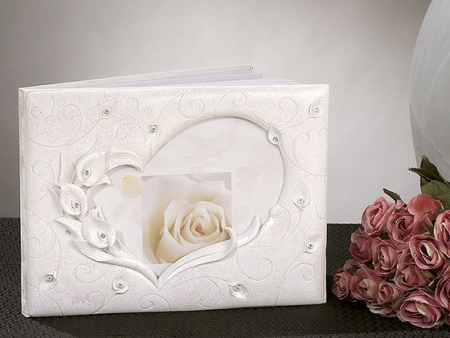 The Crystal Calla Lily Guest Book makes a beautiful addition to an elegant wedding setting. Glittering multifaceted crystals are fitted in the center of the three-dimensional calla lilies all over the cover. The calla lilies are growing out of a scrolled vine design that creates an eye catching swirl-like effect. An asymmetrical heart window is cutout of the cover where you can slip a photo in to personalize the book if you choose. The book measures 8" x 6" and comes package in a gift box that will protect the book before and after the reception.
This guest book is part of the Crystal Calla Lily Wedding Accessories Set and it matches with the Crystal Calla Lily Pen Set, Crystal Calla Lily Toasting Glasses, and the Crystal Calla Lily Cake and Knife Set. — Item #EX406C
Read more about this product
Crystal Calla Lily Guest Book
| Quantity | Price / each |
| --- | --- |
| 1+ | $12.88 |
| 12+ | $12.12 |
How do you rate this item?
Usually ships in 1-2 business days
Click below to order a sample Crystal Calla Lily Guest Book