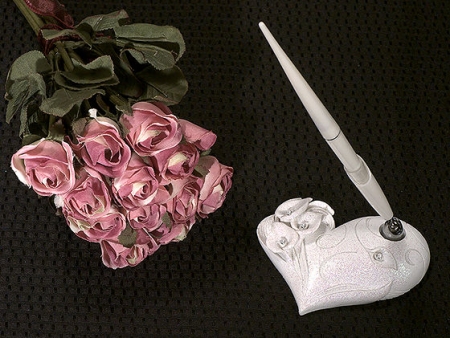 Give your guests something special to sign your guest book with when you place this Crystal Calla Lily Pen Set on the entry table at your wedding reception. This exquisite pen set blends the beauty of calla lilies with the sparkle of rhinestones in an eye catching piece that you can use even after your big day is over. The base of the pen set is a heart shape with an etched swirl design and three dimensional calla lilies gathered on the left side. Each of the calla lilies is fitted with a multifaceted clear rhinestone in the center. A silver ball and socket joint sits in the right side of the heart that holds the pen sheath. A ball point pen comes sitting in the base of the pen set ready for use. The set comes packaged in a gift box that can be used for storage before and after the event. The full pen set with pen measures approximately 8" tall.
This pen set is part of the Crystal Calla Lily Wedding Accessories Set and it matches with the Crystal Calla Lily Guest Book, Crystal Calla Lily Toasting Glasses, and the Crystal Calla Lily Cake and Knife Set. — Item #EX407C
Read more about this product
Crystal Calla Lily Pen Set
| Quantity | Price / each |
| --- | --- |
| 1+ | $6.06 |
| 48+ | $5.30 |
How do you rate this item?
Usually ships in 1-2 business days
Click below to order a sample Crystal Calla Lily Pen Set