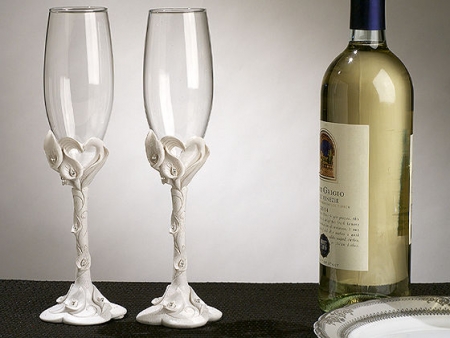 Raise your glass with class when you use these Crystal Calla Lily Toasting Glasses for your wedding toast. You will receive two toasting glasses packaged in a gift box that can be used to protect the glasses after the reception. The glass champagne flutes are set in detailed poly resin stem bases featuring 3-D calla lilies. A swirling vine design is etched into the stem adding to the natural flow of the decoration, and glittering rhinestones add sparkle to the center of each flower. The top of each stem is accentuated with an openwork heart that shows through to the glass underneath. Each glass measures approximately 10" tall.
These toasting glasses are part of the Crystal Calla Lily Wedding Accessories Set and they match with the Crystal Calla Lily Pen Set, Crystal Calla Lily Cake and Knife Set, and the Crystal Calla Lily Guest Book. — Item #EX404C
Read more about this product
Crystal Calla Lily Toasting Glasses
| Quantity | Price / each |
| --- | --- |
| 1+ | $9.85 |
| 12+ | $9.09 |
How do you rate this item?
Usually ships in 1-2 business days
Click below to order a sample Crystal Calla Lily Toasting Glasses