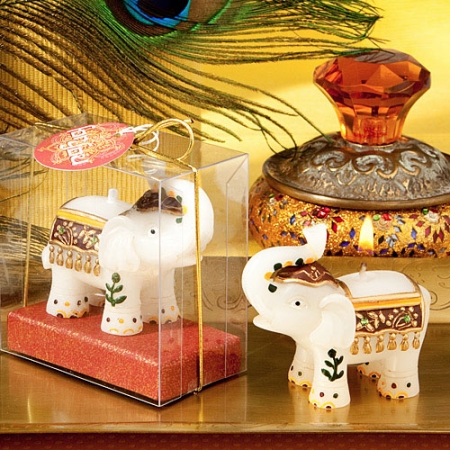 Good wishes and good luck will be all around when you place these Good Fortune Elephant Candles on your tables. These tiny wax treasures are molded in the shape of an elephant with his trunk raised. The elephant is ornately detailed with a burgundy and gold headpiece, a blanket, and hena like decorations on his legs, toes, and trunk. Each elephant candle measures 2.25" x 2" and comes standing in a clear display gift box that shows off the elephant in all his majesty. There is a red and gold flecked staging insert in the base of the box for the elephant to stand on adding some extra color to the display. Each box is finished with a gold metallic ribbon that is tied in a bow and a matching red and gold Indian design "For You" tag.
*These candles match perfectly with the Good Luck Elephant Candle Holders (#EX8652), Good Luck Elephant Candle Holders (#EX8652), and the Majestic Elephant Key Chains (#EX6587). — Item #EX8226
Read more about this product
Good Fortune Elephant Candle
| Quantity | Price / each |
| --- | --- |
| 1+ | $3.98 |
| 13+ | $3.41 |
| 30+ | $2.50 |
| 72+ | $2.27 |
How do you rate this item?
Usually ships in 1-2 business days
Click below to order a sample Good Fortune Elephant Candle