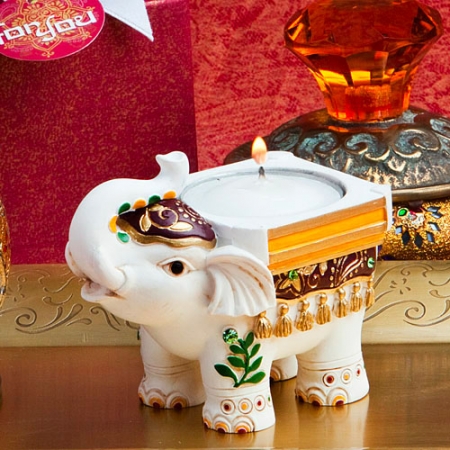 Celebrate the uniqueness and beauty of eastern culture with the Good Luck Elephant Candle Holder favors. Your guests will love the the brilliantly decorated elephant, and they can replace the tealight candle over and over again when using it in their homes. The elephant is made of ivory colored poly resin, and he has his trunk in the air striking a celebratory pose. On the elephant's head and back are an ornate headdress and a rug with tassels that are sprinkled with sparkling rhinestones and festive gold details. The elephant's feet are also decorated in matching cranberry, gold, and green colors. A carrier on the elephant's back holds a standard size tealight. The elephant measures 3" wide x 2.25" tall, and it comes packaged in a deluxe Indian inspired gift box. The box is cranberry colored with gold accents and a white satin ribbon tied in a bow. A matching Indian inspired "For You" tag comes attached to the bow. Each favor comes with one tealight included.
*These candle holders match perfectly with the Good Luck Elephant Place Card Holders (#EX5387), Good Fortune Elephant Candles (#EX8226), and the Majestic Elephant Key Chains (#EX6587). — Item #EX8652
Read more about this product
Good Luck Elephant Candle Holder
| Quantity | Price / each |
| --- | --- |
| 1+ | $5.36 |
| 10+ | $4.59 |
| 24+ | $3.36 |
| 72+ | $3.06 |
How do you rate this item?
Usually ships in 1-2 business days
Click below to order a sample Good Luck Elephant Candle Holder