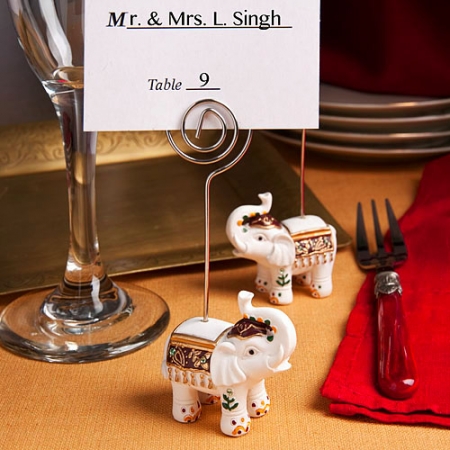 You've been lucky in love, and now you can pass some of that luck on to your guests when you give them these Good Luck Elephant Place Card Holders to take home. These useful favors can act as place card holders at your wedding, and then your guests can use them to hold a photo or a business card at home after your event is over! The ivory colored poly resin elephant is highly decorated with gold, green, and cranberry accents on his head back and feet. Glittering rhinestones are scattered throughout the elephant's headdress, rug/carrier, and feet. The 4" tall x 2" wide place card holder has a silver metal wire that extends up out of the back of the elephant and winds into a coil to hold a place card or a photo. The place card holders come bulk packed with one blank place card included with each favor.
*These place card holders match perfectly with the Good Luck Elephant Candle Holders (#EX8652), Good Fortune Elephant Candles (#EX8226), and the Majestic Elephant Key Chains (#EX6587). — Item #EX5387
Read more about this product
Good Luck Elephant Place Card Holder
| Quantity | Price / each |
| --- | --- |
| 1+ | $2.76 |
| 19+ | $2.36 |
| 50+ | $1.73 |
| 100+ | $1.58 |
How do you rate this item?
Usually ships in 1-2 business days
Click below to order a sample Good Luck Elephant Place Card Holder