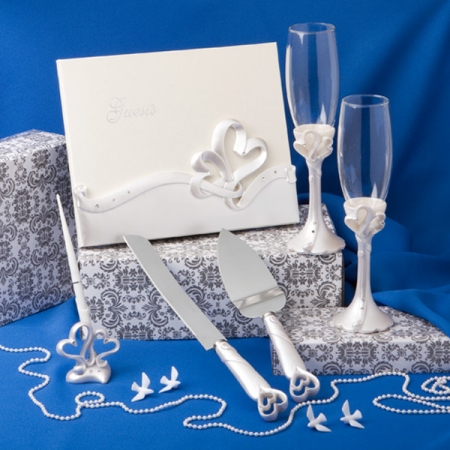 This Interlocking Heart Themed Wedding Day Accessories Set has all the elements that the bride and groom will need to put the finishing touches on their love themed event. These items will play an integral part of the wedding reception, and they will last as keepsakes for the happy couple to look back on through the years. This wedding accessories set comes with a matching Interlocking Hearts Design Pen Set, a Guest Book, 2 Toasting Flutes, and a Cake/Knife Server Set. All of the pieces feature the distinctive interlocking hearts design as well as a few strategically placed sparkling clear rhinestones. The pen set measures 7.25" tall with the pen inserted into the 1.75" wide base, and it is made of white poly resin with a plastic pen holder and a ball point pen. The guest book measures 9.875" x 7.875" and has plenty of pages inside for your guests to sign. The toasting flutes measure 9.5" tall with 2.5" bases, and they are made of 8 ounce glasses set in white poly resin stems. The cake server measures 9.75" x 2" and the knife measures 12.125" x 1". The cake/knife serving set is made of stainless steel blades with white poly resin handles. Each of the four components come individually packaged in a white box with a gray damask design and a clear lid. You can use the boxes to protect the accessories while displaying or storing them after your wedding day.
This set includes items #EX2403 Pen Set, #EX2402 Guest Book, #EX2400 Toasting Flutes, and #EX2401 Cake/Knife Set which can also be purchased separately if you like. — Item #EX2496
Read more about this product
Interlocking Heart Themed Wedding Day Accessory Set
| Quantity | Price / each |
| --- | --- |
| 1+ | $51.97 |
How do you rate this item?
Usually ships in 1-2 business days
Click below to order a sample Interlocking Heart Themed Wedding Day Accessory Set