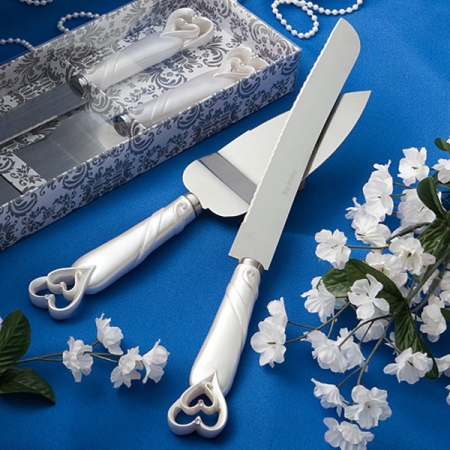 Make the cutting of the cake at your wedding even more special when you use the Interlocking Hearts Design Cake Knife/Server Set. The perfect addition to any heart theme or love themed wedding, this cake server set will add a tasteful touch to the cake cutting ceremony. Both the knife and the cake server are made of stainless steel with white poly resin handles. The handle is decorated with a swirled ribbon-like design wrapped around the top and an openwork double heart design at the end of the handle that is accented with tiny rhinestones. The knife measures 12.125" x 1" and the cake server measures 9.75" x 2". The set comes beautifully packaged in a white box with a gray damask design on it and a clear lid that shows off the cake server and knife inside. The box is perfect for storing/protecting or displaying the accessories after the wedding day is over.
This Interlocking Hearts Design Cake/Knife Server Set is part of the Interlocking Heart Themed Wedding Day Accessories Set. You can also purchase the matching Interlocking Hearts Design Wedding Pen Set, Toasting Flutes, and Guest Book separately or purchase them all together packaged as a full wedding accessories set. — Item #EX2401
Read more about this product
Interlocking Hearts Design Cake Knife/Server Set
| Quantity | Price / each |
| --- | --- |
| 1+ | $10.77 |
| 5+ | $9.23 |
| 12+ | $6.77 |
| 24+ | $6.15 |
How do you rate this item?
Usually ships in 1-2 business days
Click below to order a sample Interlocking Hearts Design Cake Knife/Server Set