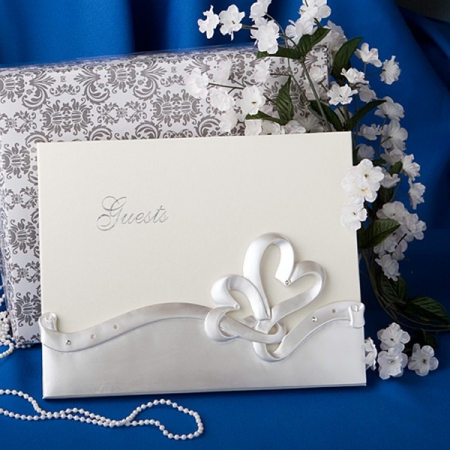 Give your guests a chance to be a lasting part of your wedding memories when they sign the Interlocking Hearts Design Wedding Guest Book. After the event is over, the newlywed couple can look back on all the well wishers that attended and read the happy thoughts for the couple's future. This classy guest book features a distinctive free flowing interlocking hearts applique on the cover with a few sparkling rhinestones on it. The guest book measures 9.875" x 7.875" and has plenty of pages inside for your guests to sign. The book comes in a gray and white damask print box that can be used for storage after the wedding. If you prefer to display your guest book in your home, the box features a clear top that will allow the book to be seen while remaining protected inside the box.
This guest book is part of the Interlocking Heart Themed Wedding Day Accessories Set. You can also purchase the matching Interlocking Hearts Design Wedding Pen Set, Toasting Flutes, and Cake/Knife Server Set separately or purchase them together packaged as a full wedding accessories set. — Item #EX2402
Read more about this product
Interlocking Hearts Design Wedding Guest Book
| Quantity | Price / each |
| --- | --- |
| 1+ | $17.11 |
| 3+ | $14.67 |
| 8+ | $10.76 |
| 12+ | $9.77 |
How do you rate this item?
Usually ships in 1-2 business days
Click below to order a sample Interlocking Hearts Design Wedding Guest Book