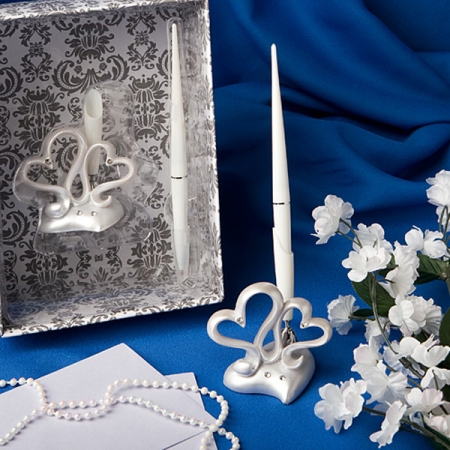 Your guests will love signing their names in the guest book with this elegant Interlocking Hearts Design Wedding Pen Set. The signing of the guest book is a time honored tradition that will not be complete without a fancy pen set to mark the occasion. The modern double heart design will fit fantastically with a heart themed or love themed wedding. The hearts are made even more special with a few tiny clear rhinestones set in the design. The pen set measures 7.25" tall with the pen sitting in the base, and the base alone measures 3.125" tall x 1.75" wide. The base is made of white poly resin with a plastic holder for the white ball point pen. The pen holder is set on top of a metal ball and socket joint that allows the pen to rotate to different angles while in the base. This pen set comes packaged in a gray and white damask design box with a clear top that can be used to protect and display the pen set after the wedding is over.
This pen set is part of the Interlocking Heart Themed Wedding Day Accessories Set. You can purchase the matching Interlocking Hearts Design Wedding Guest Book, Toasting Flutes, and Cake/Knife Server Set separately or together packaged as a full wedding accessories set. — Item #EX2403
Read more about this product
Interlocking Hearts Design Wedding Pen Set
| Quantity | Price / each |
| --- | --- |
| 1+ | $8.48 |
| 6+ | $7.27 |
| 15+ | $5.33 |
| 48+ | $4.85 |
How do you rate this item?
Usually ships in 1-2 business days
Click below to order a sample Interlocking Hearts Design Wedding Pen Set