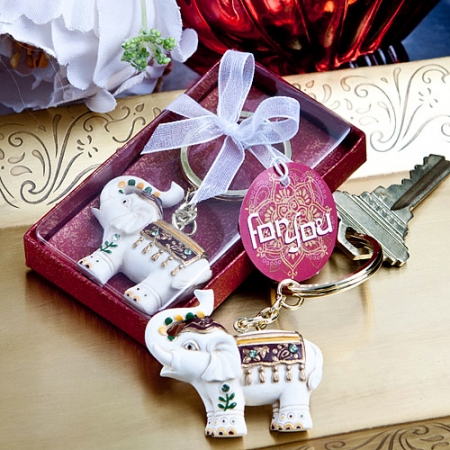 Bring good luck to everyone at your event when you give them a Majestic Elephant Key Chain. It is said that an elephant with his trunk held high in the air symbolises good fortune, so this key chain should bring luck to those who carry it. The elephant charm is made of ivory poly resin that is hand painted with ornate details in gold, green, and brick red. The elephant has a decorative blanket and head piece as well as painted toenails. A gold metal chain is attached to the elephant's back with a key ring on the end of it. The full key chain measures 3.25", and the elephant charm measures 1.75" x 1.5" by itself. Each key chain comes packaged in a red and gold decorative gift box with a clear lid. The box is tied with a white organza ribbon, and a matching red and gold Indian-inspired design "For You" tag is attached to the bow.
*These key chains match perfectly with the Good Luck Elephant Candle Holders (#EX8652), Good Fortune Elephant Candles (#EX8226), and the Good Luck Elephant Place Card Holders (#EX5387). — Item #EX6587
Read more about this product
Majestic Elephant Key Chain
| Quantity | Price / each |
| --- | --- |
| 1+ | $2.55 |
| 21+ | $2.18 |
| 48+ | $1.61 |
| 144+ | $1.45 |
How do you rate this item?
Usually ships in 1-2 business days
Click below to order a sample Majestic Elephant Key Chain