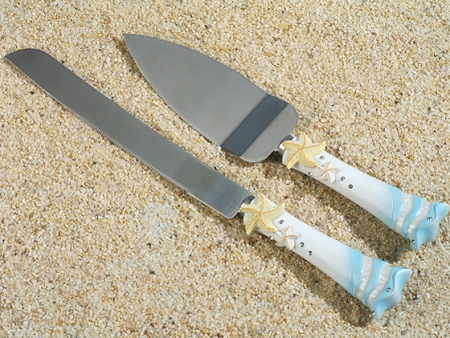 Cutting the cake is a time honored tradition that deserves a special Starfish Beach Theme Cake and Knife Server set to commemorate the occasion. Pictures will be taken, cake will be eaten, and when it is all over the bride and groom will have a special keepsake from their beach themed wedding to look back on. The cake and knife server set measures approximately 10" long and comes packaged in a gift box that will keep the set safe through the years. The handle of each piece is made of durable poly resin featuring white Epoxy waves flowing around the base of the handle. The handle fades from sky blue to white, and it is embellished with tiny clear rhinestones shimmering throughout. Two detailed starfish find a home at the top of each handle adding to the beachy look.
The cake and knife server are a perfect pair with the Starfish Beach Theme Guest Book, Starfish Beach Theme Pen Set, and the Starfish Beach Theme Toasting Glasses Set. Order separately, or get all these wedding accessories together when you order the Starfish Beach Theme Wedding Accessories Set. — Item #EX441C
Read more about this product
Starfish Beach Theme Cake and Knife Server
| Quantity | Price / each |
| --- | --- |
| 1+ | $9.85 |
| 24+ | $8.33 |
How do you rate this item?
Usually ships in 1-2 business days
Click below to order a sample Starfish Beach Theme Cake and Knife Server