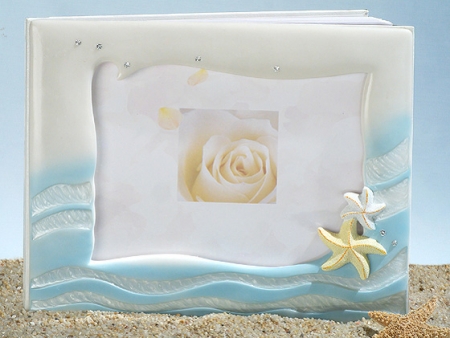 This Starfish Beach Theme Guest Book is an elegant way for your guests to sign their names and write positive wishes for your future. After the wedding, the bride and groom can have this keepsake to look back on with fond memories. The outside of the guest book is made of poly resin featuring white Epoxy waves flowing across the cover. Two embossed starfish decorate the front cover along with some sparkling clear rhinestones. There is a clear photo window in the front of the guest book that you can use to display a photo of the happy couple if you choose. Inside the book are plenty of pages for guest signatures. The 8" x 10" guest book comes packaged in a gift box that you can use to protect the book should you choose to store it.
Pair this guest book with the Starfish Beach Theme Pen Set, Starfish Beach Theme Toasting Glasses Set, and the Starfish Beach Theme Cake and Knife Server. Order separately, or get all these wedding accessories together when you order the Starfish Beach Theme Wedding Accessories Set. — Item #EX444C
Read more about this product
Starfish Beach Theme Guest Book
| Quantity | Price / each |
| --- | --- |
| 1+ | $14.39 |
| 12+ | $12.86 |
How do you rate this item?
Usually ships in 1-2 business days
Click below to order a sample Starfish Beach Theme Guest Book