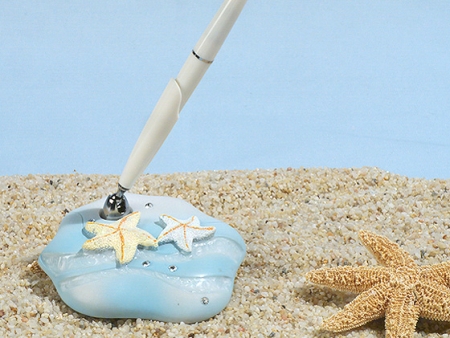 The perfect beach themed wedding is all about the details, and this Starfish Beach Theme Pen Set is one of the finishing touches that will make your big day feel extra special. Your guests will enjoy using this unique pen set to sign your guest book, and you can use it in your home or office after your wedding day is over. Look back on your wedding day with fond memories every time you reach for a pen! The pen set measures approximately 8" high with the pen in the holding base. The base of the pen set is made of solid poly resin that is painted light blue with white Epoxy waves rolling across. Also decorating the base of the pen set are two embossed starfish and a handful of clear rhinestones. A white ball point pen sits in the white pen holder that extends from the base of the pen set. The pen holder is fitted with a silver metal ball and socket joint that allows the pen to rotate and bend to almost any angle above the base. This pen set comes presented inside a gift box that can be used to store the pen set if needed.
This pen set matches perfectly with the Starfish Beach Theme Guest Book, Starfish Beach Theme Toasting Glasses Set, and the Starfish Beach Theme Cake and Knife Server. Order separately, or get all these wedding accessories together when you order the Starfish Beach Theme Wedding Accessories Set. — Item #EX442C
Read more about this product
Starfish Beach Theme Pen Set
| Quantity | Price / each |
| --- | --- |
| 1+ | $6.82 |
| 48+ | $5.68 |
How do you rate this item?
Usually ships in 1-2 business days
Click below to order a sample Starfish Beach Theme Pen Set