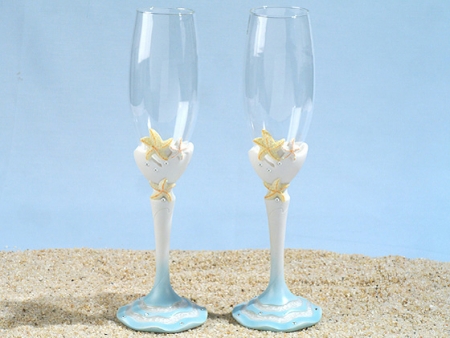 Toast in style at your beach wedding with these Starfish Beach Theme Toasting Glasses Set for the bride and groom. Having an indoor event? These toasting flutes will make a splash at an indoor beach themed wedding. The stem of each champagne flute is made of poly resin with Epoxy white waves decorating the bottom. The stem fades from sky blue into white at the top where detailed starfish are attached. Tiny glistening rhinestones are sprinkled throughout the stem of the glass. You will receive two toasting flutes packaged in a gift box that can be used for storage or display after the event is over. The toasting flutes measure approximately 10" tall.
These toasting flutes are a perfect match with the Starfish Beach Theme Cake and Knife Server, Starfish Beach Theme Guest Book, and the Starfish Beach Theme Pen Set. Order separately, or get all these wedding accessories together when you order the Starfish Beach Theme Wedding Accessories Set. — Item #EX443C
Read more about this product
Starfish Beach Theme Toasting Glasses Set
| Quantity | Price / each |
| --- | --- |
| 1+ | $11.36 |
| 12+ | $9.83 |
How do you rate this item?
Usually ships in 1-2 business days
Click below to order a sample Starfish Beach Theme Toasting Glasses Set